Lana del Rey and the Art of Romanticization 
Like many others before me (and after me, undoubtedly), Lana Del Rey's instant hit "Summertime Sadness" captivated me with its soft vocals, relatable and beautiful lyrics, and catchy melody. But, like a fish falling for the bait, I wasn't satisfied with just enjoying one of her songs and began venturing into her other music. I listened to her albums (Born To Die being my personal favorite) and submerged myself in the overly (yet glamorously) romanticized American fantasy world that Lana gracefully constructed in each and every song. When I would use my parent's car's AUX cable to play my music and one of her songs would come on, my mother would always say how the soft voice nostalgically reminded her of how a 40's singer would sound like. And it's true: Lana's butter-soft, ultra-airy voice does sound like it belongs in a classy speakeasy in Southern California during the 1930s. Throughout all her songs, she managed to blend that nostalgia with modern pop creating a melancholic, yet strikingly beautiful, atmosphere none of her listeners could properly resist.
Chemtrails Over The Country Club is, however, a bit different from the albums that came before it. It's so refreshingly down-to-earth that it achieves glamour by the simple means of her voice and instrumental harmonies. The sound she achieves now is, in my humble opinion, the best so far; eliminating, for example, the heavy drum tracks that were quite present in her early songs (such as "This Is What Makes Us Girls" and "Diet Mountain Dew") was a wise choice. It removes the heaviness and crowded feel that some of her music pre-Norman F***ing Rockwell! had. However, this does not mean that her previous works are not great—as a matter of fact, it complements the tracks in which it is present. Yet the new direction that her music is taking by dropping some of its old elements is certainly a promising one. Taylor Swift has pulled a similar stunt as well; the heavy country of her first albums was let go to create the classy sounds found in Folklore and evermore. Del Rey's music matures along with her.
However, there is one constant in the sea of variables of Lana's music: Americana culture and its deep romanticization. Americana is anything that represents the United States or its people, concentrating on a highly stereotyped version of this country. It's easier to explain it if I was just to list a few random examples of Americana culture. These include (but are not limited to): white picket fences, Coca-Cola, blue jeans (especially Levi's), apple pies, baseball, cheeseburgers, and eating turkey for Thanksgiving. TV shows like Riverdale are also good examples—meeting your friends after school at a diner and drinking milkshakes is a classic reflection of Americana.
Del Rey's music, dating back to her first hit "Video Games" to the tracks in Chemtrails, all portray a romanticized version of what the United States is—or was. In 2017, Lana del Rey confessed in an interview with Pitchfork that she felt uncomfortable waiving the flag of her country in tours after Trump's election. "I'm not going to have the American flag waving while I'm singing 'Born to Die'", she explained. "It's not going to happen. I'd rather have static. It's a transitional period, and I'm super aware of that. […] It would feel weird to me now—it didn't feel weird in 2013."
So how did she maintain her Americana aesthetic even after Trump's election? 
Her music became less about American society and more about her experience in it. Although the Trump administration is over, her music in Chemtrails prolongs that idea. In "Dark But Just A Game," for example, Lana sings about how fame changes people to the point of malfunction, yet how she herself refuses to change in order to keep her sanity. When she sings "No rose left on the vines," she explains that even when her beauty isn't recognized by the society she lives in, she will maintain her originality. Tracks like "Yosemite" (which simultaneously highly contrasts and complements her 2019 song "The Next Best American Record") portray the changes that two people in a relationship can undergo without losing the glue that holds them together. Quite the contrary: these changes reinforce the relationship for it to stand the test of time.
The tracks in Chemtrails Over the Country Club are Lana at her finest, most pure and refined version of herself. By transforming the Americana aesthetic into her own, she manages to romanticize all the right things in a way that never comes off as offensive, but rather as the good-old nostalgic type of beautiful that she always manages to deliver.
Opinion Disclaimer: The opinions, beliefs, and viewpoints expressed by the various contributors to this website are their own and do not necessarily reflect the opinions, beliefs, viewpoints, or official policies of The Baldwin School of Puerto Rico.
Leave a Comment
About the Writer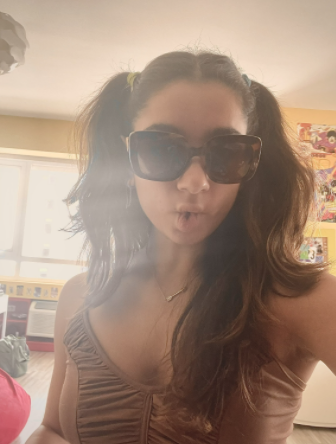 Caridad Alvarez, Editor-in-Chief
Hello, my name is Caridad Álvarez and I am one of this year's editors-in-chief. I am in my junior year and I have been contributing to the Bullseye...