Retired Brazilian Footballer Pelé Calls Himself Better than Messi
Is Messi Overrated?
"How can you make a comparison between a guy who heads the ball well, shoots with the left, shoots with the right and another who only shoots with one leg, only has one skill and doesn't head the ball well?" -Pelé (Evening Standard). About a week ago, Brazilian footballing superstar, Pelé, said these comments about Lionel Messi. In an interview with Brazilian newspaper Folha de São Paulo, Pelé called out Messi and basically claimed he was overrated, as, according to him, Messi didn't have skills with his head and his right foot. He also told the newspaper: "As far as I'm concerned, [Diego] Maradona was one of the best players ever. If you ask me, 'Was he better than Messi?' Yes, he was. Much better." (Evening Standard). "How can you compare? To compare with Pelé, it has to be someone who shoots well with the left, shoots well with the right, and scores headers." -Pelé (Evening Standard). With these comments Pelé told the world that Messi is overrated and is not the greatest player of all time, as he supposedly is not good with his right foot or with his head. Instead Pelé essentially called himself the greatest of all time and diminished Lionel Messi.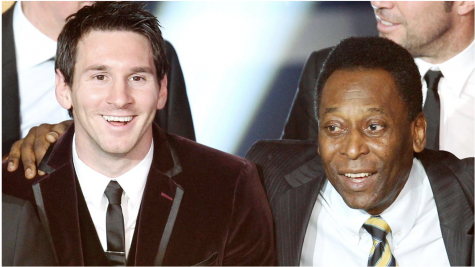 The World is Stunned
After this comment spread in the news, a great majority of the people disagreed with Pelé. On social media, people showed their disagreement with Pelé calling instead Messi the greatest of all time and saying that what Pelé said was false. After Pelé and the people said their opinion on this comment, Messi said his, without any words. A few days after this comment spread the news, Barcelona played their city rivals Espanyol. In this game, Barcelona along with Messi put on a stunning performance as they won 4-0. Messi, was directly involved in three of the four goals by assisting french youngster Ousmane Dembele, and scoring twice. However, these two goals were not normal and easy goals, both these goals were free-kicks. With two stunning direct free kicks in one game and an incredible individual performance, Messi stunned the world. Well, not really, it's become a habit now for him to put on these types of performances consistently. Messi shut Pelé up.
After the game, Barcelona left-back Jordi Alba, a great friend of Messi, called out Pelé for his comments in an interview with newspaper Sport. Alba said, "Pelé must not be able to see very well if he says what he says about Leo," (Express). He even went on to say, "It seems like a lie that someone in the world of football could speak like that" (Express). I completely agree with what Alba said, if you understand football, you know that Messi is the greatest player of all time. But if an opinion isn't enough to convince you, here are the facts:
Facts, Not Opinions
Both Messi and Pelé are forwards, meaning that they score lots of goals. Messi had 634 official (not friendlies) club goals. On the other hand, Pele has 1,033 goals however approximately 390 of those were unofficial goals (from friendlies) meaning Pelé had 643 official goals. Pelé currently has 11 more goals than Messi, but Messi still has not retired or has begun to be affected by age. Even though they are close in official goals, they have played under different circumstances. Messi has played all of his life in La Liga, the second best league in the world after the English Premier League (Spanish football league) and the UEFA Champions League, the best club competition in the world. Messi has been playing at the highest level of football for all of his professional career, facing the best teams and defenses in the world. Another impressive statistic, is that Messi has the record for the most goals in a calendar year, 91 in 2012. Pelé, on the other hand, has played in Santos (Brazilian Club) and New York Cosmos. Pelé never played in Europe and has always played in South and North America. These are places where the quality of football is not near as high as it is in Europe. Only 643 official goals, playing at a lower level in America, but he calls himself the greatest? Definitely debatable.
Is it a Different Game?
Also, there is the argument that there is a difference in the times they have played. Pelé played from 1956 to the 1977, whilst Messi made his debut in 2004 and is still playing. The game has evolved and the play has improved. Goalkeeping has improved, defending has improved, and scoring goals is becoming more difficult as a result. At the time of Pelé, defenders were less skilled and goalkeepers were worse, making it easier to score goals. This and the fact that Pelé played in South and North America together shows that for Pelé it was not that difficult to score goals. Nowadays, with better defenders and goalkeepers it is harder to score goals. Messi in comparison to Pelé, is playing at the clubs highest level, in a time where football has become more popular and the overall caliber of the players has improved. Essentially, for Messi it has been harder to score goals due to stronger defenses and goalkeepers, whilst for Pelé, it was easier because of the lack of talent of the opposition that he played against.
Team of Superstars
One thing that Pelé has done that nobody has ever done, is win three World Cups. He won in 1958, 1962, and 1970. Despite winning these trophies, he never won the World Cup Golden Boot (top scorer award), and was not always the most essential player of his team. In the 1958 World Cup, Pelé scored 6 goals but lost the golden boot to France's Just Fontaine. Didi, a Brazilian player beat Pelé to the Golden Ball in that World Cup. In 1962, Pelé also won the tournament. However, he spent the majority of the tournament on the bench and only scored once. Garrincha instead, was the star of the team, and he won the golden ball scoring 4 goals in the tournament. In Pelé's last World Cup win, he won the golden ball and played most of the tournament, scoring 4 goals in the process. These stats show that Pelé had an excellent international career, one superior to Leo Messi's. However, there is the argument that Pelé had excellent players that performed consistently in his Brazil team, whilst Messi has world class players who always underperform with Argentina. Pelé had a team of superstars that reached victory, whilst Messi had to carry his teammates consistently. Regardless of this impressive stat, Messi dominates when it comes to club trophies.
A Collection of Club Trophies
Despite all of Pelé's international success, Messi is untouchable in club trophies. He has achieved a great amount of honors in his time with Barcelona, and is doing so at the highest level of football, unlike Pelé. Pelé instead played in Santos and New York Cosmos, countries where the quality of football is not comparable to that of Europe's. Messi, has won 4 champions league titles, 9 Spanish league titles, 6 Copa del Rey titles, 8 Spanish super cups, 3 club World Cups, and 3 European super cups. Messi has won most of club football's biggest trophies various times and has won all possible trophies with Barcelona at least 3 times. An impressive stat. On the other hand Pelé, has won 2 Copa Libertadores titles, 6 Brazilian league titles, 1 NASL bowl championship, and 2 intercontinental cups. Messi has a total of 33 club titles whilst Pelé has 11. Messi has played at a way higher club level of football even with that, he has won much more club trophies than Pelé.
So, Who's the Best?
Both Lionel Messi and Pelé are great players. They have both scored a lot of goals, and won many great trophies with their respective teams. However, Messi has played in a harder era of football, whilst Pelé played in a time where footballers had less quality and it was easier to score and play well against them. Messi also is playing in a way higher club level than Pelé ever played in. Despite all of these advantages for him, Messi only is 11 official goals away from equalizing Pelé's official goal tally, and also has achieved more with his club, FC Barcelona, than Pelé did with his teams. All of these things show that Messi is a better player than Pelé, and that his comments against Messi, are simply wrong.
Citations
Elliott, N. (2018, October 12). Why Pele is the most overrated player of all time. Retrieved from https://www.dreamteamfc.com/c/news-gossip/148222/pele-overrated-player-time/
Gladwell, B. (2016, May 26). Barcelona and Argentina star Lionel Messi is Pele's 'favourite player'. Retrieved from http://www.espn.com/soccer/argentina/story/2880637/barcelona-and-argentina-star-lionel-messi-is-peles-favourite-player
Lionel Messi – Titles & victories. (n.d.). Retrieved from https://www.transfermarkt.co.uk/lionel-messi/erfolge/spieler/28003
Messi only has one skill! Pele laughs off comparisons to Barca man. (2018, December 06). Retrieved from https://www.standard.co.uk/sport/football/barcelona/lionel-messi-only-has-one-skill-pele-laughs-off-comparisons-to-barcelona-man-a4010471.html
Pelé. (n.d.). Retrieved from http://www.football-history.net/who-is-who/p/pele.htm
Pelé – Titles & victories. (n.d.). Retrieved from https://www.transfermarkt.com/pele/erfolge/spieler/17121
Penn, M. (2018, December 10). Lionel Messi: Barcelona ace Jordi Alba makes huge Pele claim. Retrieved from https://www.express.co.uk/sport/football/1056695/Lionel-Messi-Barcelona-Jordi-Alba
World Cup Best Players (Golden Ball). (n.d.). Retrieved from https://www.topendsports.com/events/worldcupsoccer/golden-ball.htm