Remembering Virgil Abloh
The fashion industry has lost one of its most talented creators this weekend. Virgil Abloh, the artistic director of Louis Vuitton's menswear collection and the CEO of the Off-White brand, had been "privately battling an aggressive form of cancer known as cardiac angiosarcoma" for two years and passed away this Sunday, November 28. 
At 41 years old, he was a pioneer in the industry "driven by his dedication to his craft and to his mission to open doors for others and create pathways for greater equality in art and design", as a statement read on his Instagram. Let's take a look at some of his life-defining moments.
He was born on September 30, 1980, to Ghanian immigrant parents right outside of Chicago. Before he was a world-renowned designer, believe it or not, he studied civil engineering and completed a masters in architecture. Rumor has it that on the day of his undergraduate graduation, he skipped his final hours to take a meeting with Kanye West's then manager, John Monopoly, and soon after, they began working together. 
In 2009, he and West began working together as interns for Fendi in Rome and soon after, attended Paris Fashion Week, bringing a new energy to the scene. As he once told W Magazine, "[w]e were a generation that was interested in fashion and weren't supposed to be there. We saw this as our chance to participate and make current culture. In numerous ways, it felt like we were bringing more excitement than the industry was." Anyone familiar with Abloh's work can tell you that his work was innovative and exhilarating, bringing something fresh to the table. 
In 2012, he launched his first brand Pyrex Vision which was essentially purchasing $40 dead stock Ralph Lauren shirts (selling them for $550) and screen printing the word Pyrex and the number 23 on them, a subtle commendation to his childhood hero Michael Jordan. 
A year later, he founded his legacy, Off-White, where he combined "ideas of streetwear, luxury, art, music, and travel, defining the brand simply as, 'the gray area between black and white as the color Off-White.'"
In 2016, he opened his first concept store in Tokyo, where visitors could take Off-White branded cups for free from a water cooler. Inevitably, these cups were resold online and can still be found today. He also debuted his first furniture collection in Milan featuring "iron grid chairs, benches, and tables with leather cushions". Now, not only was he a fashion designer, but also an avant-garde furniture creator.
2017 was definitely a memorable year for Abloh, with the announcement of his collaborative exhibition with Takashi Murakami opening at Gagosian, the release of his first song, the opening of his New York store, the British Fashion Award for Urban Luxe Brand, and collaborations with three different designers: Warby Parker, Jacob the Jeweler, and Jimmy Choo. Perhaps his most exciting collaboration, though, was his sneaker partnership with Nike called The Ten, leaving his mark on the shoe market in quite a unique way. 
In 2018, he was named the artistic director of Louis Vuitton's menswear collections, where he remained until his passing.
Models including Kendall Jenner, Gigi and Bella Hadid, and Kaia Gerber have taken to Instagram expressing their gratitude for Abloh's friendship, kindness, and inspiration. "The way he made a positive impact on anything he touched, and always pushed for his culture/the world, is the reason why he was an angel on earth and one to so many", wrote Bella Hadid. 
Abloh's journey will be remembered for years to come, as his work will be not only a guide to follow for the industry's up and coming creators, but also a legacy for those who had the opportunity to witness his career grow. He reconstructed the trends and visions of the decade, while simultaneously changing the industry as a whole.
Virgil Abloh, September 30, 1980 – November 28, 2021
Sources:
https://www.vogue.com/article/virgil-abloh-biography-career-timeline
Image source:
https://www.dezeen.com/2021/11/28/virgil-abloh-dies-cancer/
Leave a Comment
About the Contributor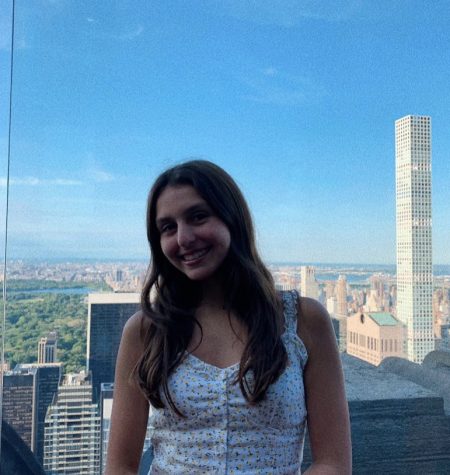 Laura Rodriguez, Assistant Website Editor
Hi! My name is Laura Rodriguez, I'm a senior, and I have been a part of the journalism club for 4 years. Though I have been both photographer and writer,...