Lion King Play: A Review
On Friday, March 25, 2022, in the crisp evening hours, I had the honor of watching the Lion King musical, interpreted by The Baldwin School. As a new Puerto Rican who moved here a mere 7 months ago, and as soon as I joined the Baldwin community, I felt immediately at home. Seeing all the detailed costumes (especially the lion headpieces, and Pumba's costume), the glorious makeup designs painted so artistically on each actor's faces, and the enthusiasm and talent that each of the actors brought to the stage made me feel a sense of pride. I swelled on the inside, knowing that sitting in the audience were people from all around the island who were getting to witness Baldwin's talent, hard work, and months of persistence and determination. 
The musical had two acts, with a short 15 minute intermission in between. The first act had 9 songs, and the second act had 4 songs. My favorite song from the first act was "Hakuna Matata." I loved Timon and Pumba because of their priceless humor and accents. In "Hakuna Matata," I enjoyed the transition between Young Simba to Grown up Simba all folded up into one song. The transition was super smooth and reminded me so much of the actual Lion King movie. 
Seeing the musical reminded me of my younger childhood when I would sing "Hakuna Matata " repeatedly because I got it stuck in my head for months at a time. My parents would beg me to stop, but I just couldn't because I loved it so much. 
As I was reflecting after the show, I finally understood what it meant to be part of a "stage family" and not just a stage crew. I could see the time commitment that it took to pull off an event so elaborate, and it was no small feat. Through all of the time and hard work, the actors were able to bond and find a family within themselves. As I think towards my own life, I realized that that is what Baldwin brought to me. They made me feel like a part of a community, and like I belonged. All the students were so welcoming, they were willing to show me around and answer my questions.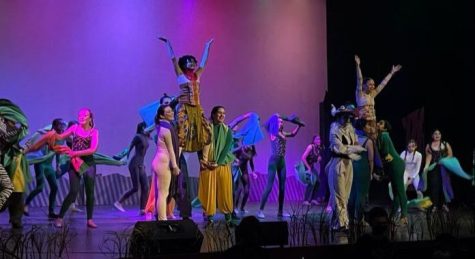 I feel like my time so far at Baldwin has shown me what it means to be a part of a school that is a family more than anything else. Seeing the entire Baldwin community get so excited about the play, excited to support their friends and peers, excited to see what their own community was going to do showed me that the Baldwin students believed in each other and were more than just peers, they were family. We are always there for each other, we don't let our people down.

Congratulations to all the incredible actors who dedicated so much time into putting on such an amazing show together. Congratulations to Alex Puig and Mara Pagan for directing the entire effort. I know that the show was more than just the actors I got the pleasure of seeing on stage. It takes an army to make such astounding productions like this one to come together. To the teachers, backstage crew, makeup artists, costume designers, technicians, musical and sound directors, choreographer, stage managers, and everyone else behind the scenes, congratulations! 
After all of this, I feel so proud to be part of the Baldwin family, and to know in my heart that the production I witnessed was all part of Baldwin's principles. We are IB learners, we work hard, we communicate, we are intellectuals, we are creative. And as I was sitting in the VPAC, high up amongst the crowd, along with three generations of family, I could see it all coming into play through the performance, a breathtaking production that brought the Baldwin community together, closer than ever.
Leave a Comment
Donate to Baldwin Bullseye
Your donation will support the student journalists of The Baldwin School of Puerto Rico. Your contribution will allow us to purchase equipment and cover our annual website hosting costs.