Midnights by Taylor Swift: Review
After countless easter eggs, The 1975 collaboration rumors, late night TikTok posts, and millions of newly-insomniac fans, Taylor Swift's Midnights is finally here in its full glory.
Midnights is a sultry testament to the singer-songwriter's starlit life and her countless sleepless-nights, filled with lingering feelings of passion, loss, and solitude. Throughout the album's 13 tracks, Swift is the rawest we've ever seen her. Her two latest albums, Folklore and Evermore, were a mix of personal and fictional tales, but Midnights is seemingly all her, and it is visually and sonically stunning, accompanied by imagery that perfectly encompass the album's distinct and nostalgic sound.
The album's first track, "Lavender Haze," opens with a beat and vocal effects reminiscent of fan-favorite Lover track "False God." "Lavender Haze" is sonically one of the album's high points, containing the distinct alternative-pop production Jack Antonoff does best (think Lorde's Melodrama), in addition to featuring heavenly vocals from Swift and harmonies which appear to be done by Antonoff himself. Taylor details her disregard for expectations placed upon her relationship by the media, and how she chooses to stay infinitely caught up in the bliss that her current relationship has brought her.
Standout lyric: "I feel the lavender haze creeping up on me, surreal."
The album's second track "Maroon" pays homage to one of Taylor's most iconic metaphors: the usage of the color red. This is most prominently seen in 2012's Red. Maroon's production has a likeness to the one seen on 2017's Reputation, with the inclusion of similar digital drums. She describes her past love as "so scarlet, it was maroon", continuing this perception of passionate love as crimson-colored and violently outstanding.
Standout lyric: "Carnations you thought were roses, that's us"
The lead-single "Anti-Hero" sounds very distinct to a great majority of the album, and considerably more upbeat. Its lyricism is very trivial in comparison to the two prior songs, with its chorus sounding like it was designed to be TikTok sound bait ("It's me / Hi, I'm the problem / It's me"). Swift details her strange dreams regarding her future and perceptions of herself and others in a very personal way. While its message is clear and true to Swift's experience as a woman under media scrutiny, it isn't exactly a lyrical highpoint on the album, and she has songs that are much better at putting this point across (such as 2017's "I Did Something Bad" or 2020's "mad woman")
Standout lyric: "One day, I'll watch as you're leaving and life will lose all its meaning"
"Snow On The Beach" is a stark contrast from the previous track's message. It is a love song detailing a love that is so surreal that it feels quite literally like seeing snow on the beach ("weird but f*cking beautiful"). The song was crafted in "collaboration" with singer-songwriter and fellow Jack Antonoff alumn, Lana Del Rey, who Swift has previously referred to as "the most influential woman in pop" and "one of the best musical artists ever." The track's whimsical instrumentals sound similar to Folklore's "Mirrorball," both tracks distinctly dream-like and hazey. "Snow on the Beach" feels almost like the perfect ending to "Mirrorball," where she has finally achieved that bliss she so desperately longed for: a reciprocated love as remarkable as seeing snow coming down on a beach.
Standout lyric: "I searched 'aurora borealis green' / I've never seen someone lit from within, blurring out my periphery."
"You're On Your Own, Kid" is arguably laced with some of Midnights' best lyricism. It has many visual elements, detailing "blood-soaked gowns" and "picking petals". This track (like most of the album) is one of unreciprocated love, and the inevitable feeling of being alone. She describes wanting to get out of her town, perhaps alluding to her outspoken distaste of Hollywood's picture-perfect facade, but staying stoic waiting for the one she wants most. The line "I search the party of better bodies just to learn that my dreams aren't rare," also alludes to the City of Angels, more specifically the inferiority and comparison that the city's culture promotes, and how at the end of the day, one truly only has themself.
Standout lyric: "Cause there were pages turned with the bridges burned, everything you lose is a step you take"
"Midnight Rain" is also a very cinematic track and arguably an album stand-out. The lyrics are highly catchy and laced with clever rhymes, perfectly complementing the song's voice warps and low-key drums. It explores a failed relationship due to different priorities and personalities, with Swift describing herself as "midnight rain", and her past-lover as "sunshine". There is also the element of the patriarchal expectation of marriage mentioned in the song and how Swift chooses to remain focused on her career and ambitions even with the passage of time. Midnight Rain's subject is one of the singer's past, and she rarely even thinks of them, except on certain "midnights like this".
Standout lyric: "So I peered through a window, a deep portal, time travel, all the love we unravel and the life I gave away"
"Question…?"'s minimalistic production allows for Swift's vocals and harmonies to shine through, these being what stands out in the track. It is also one of the album's most personal (yet vaguely written) songs, detailing questions Swift would like to ask her past lover about their current relationship in comparison to the one they once had with her. This is done in a partially revealing way, leaving the specifics of the affair a cryptic mystery, up to interpretation by the listener.
Standout Lyric: "I don't remember who I was before you painted all my nights a color I have searched for since."
"Vigilante Sh*t" is one of the album's darkest tracks, thematically speaking. It alludes to Swift's ex-manager Scooter Braun, his white-collar crimes, his infidelity, and his marriage's untimely end, which Swift considers to be her revenge. The track has minimal production, with a simple drum beat, mainly drawing focus to Swift's revelatory lyrics, describing herself as a vigilante seeking justice for herself and Braun's ex-wife. While it is a fun track that showcases Swift's vengeful side, it isn't exactly one of the album's best, with its minimal production and lyricism falling short in comparison with the album's highest points. The track's purpose is to deliver one specific message: Taylor Swift was out for revenge, and she knows how to put an end to her disputes.
Standout lyric: "Picture me thick as thieves with your ex-wife."
"Bejeweled" references Swift's star power and her shining, shimmering essence that remains with her no matter how much time passes. It's sonically entertaining, containing drumbeats seen throughout the album in addition to rapid synth sound effects imitating shimmer and resplandescence. It's a cute, upbeat track, serving as a pleasant addition to the album and one of its happiest songs thematically.
Standout lyric: "Familiarity breeds contempt."
"Labyrinth" contains some of Swift's most heavenly vocals in the album, quickly opening with her singing about a love she'll never forget. The song beautifully captures the realization of falling in love at the exact moment it was occurring. It also communicates the terrifying feelings that come with this realization. Swift feels lost and confused by her sudden feelings and, instead of being happy about their arrival, she mourns their inevitable loss. The track serves as a tribute to paranoia and sleeplessness over what's to come instead of focusing on what's currently in one's grasp. Its production stays true to the general sound of the album, containing the synth effects seen throughout it and soft, delicate drums that highlight Swift's haunting vocals and lyrics.
Standout lyric: "It only feels this raw right now, lost in the labyrinth of my mind"
"Karma" is Swift's victory anthem. She's stayed on karma's good side, and those who've hurt her are now suffering the consequences. The track serves as a mood change in comparison to "Labyrinth," and, overall, it's very fun. The production contains the same synth effects Jack Antonoff so clearly loves to use, but it's much more reminiscent of a 1989 era radio hit instead of a Lover ballad.
Standout lyric: "You're terrified to look down, cause if you dare you'll see the glare of everyone you burned just to get there"
"Sweet Nothing" is a very minimal piano ballad. Its production is very stripped-down in comparison to the synth and drums seen in the majority of the album. It's a wholesome love song, written alongside Swift's partner, Joe Alwyn. "Sweet Nothing" details the intimacy that they have been able to achieve by keeping their 6-year relationship out of the public eye and the bliss it brings them everyday. Swift brings all her walls down with Alwyn, and this song is a gorgeous and intimate tribute to their love.
Standout lyric: "They said the end is coming, everyone's up to something, I find myself running home to your sweet nothings"
The album's final track "Mastermind" is one of its highlights, with its synth instrumentals and storyline structure. Taylor admits how hard she tries to impress and win over others and how, so far, it has worked in her favor. "Mastermind" serves as a confession to how much she truly cares, but it's playful in nature (unlike Folklore's "Mirrorball"). She's content with what her scheming has brought her and knows that it isn't out of malice, but because she truly cares, and those around her acknowledge it.
Standout Lyric: "We were born to be the pawn in every lover's game…Strategy sets the scene for the tale, I'm the wind in our free-flowing sails"
Midnights is quintessential Taylor Swift, combining many sounds and distinct production styles in order to create what appears to be one of the year's best (and highest performing) albums so far. Swift is blunt and unafraid of consequences, making this album one of her most honest and enjoyable to date.
Leave a Comment
Donate to Baldwin Bullseye
Your donation will support the student journalists of The Baldwin School of Puerto Rico. Your contribution will allow us to purchase equipment and cover our annual website hosting costs.
About the Contributor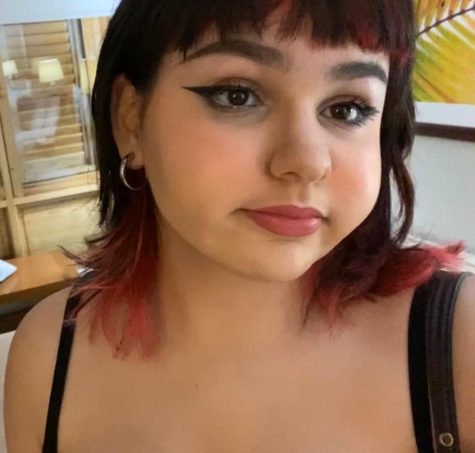 Lexi (Alexandra) Garcia, Writer
Hey, I'm Lexi! I'm Puerto Rican and Cuban (born here in PR), and I enjoy appreciating all things artistic, whether that be films, music, photography,...