A Hate Letter to Cupid <3
Since the beginning of time, we have been spoon-fed that Valentine's Day is the day to celebrate love, and more importantly, candy, flowers, and stuffed animals. Who decided that February 14th was going to be the day when we needed to shower a significant other with presents? Who determined that the only way to have a worthwhile February 14th was by getting struck by Cupid's arrow? Who invented that an infant in diapers who carries a bow and arrow is the God of love and passion? The title of this piece is misleading, as this is not an actual hate letter towards Cupid and Valentine's Day and is more of a critical review.
Plot twist: I actually love Valentine's Day. I love giving my friends all their favorite candies, overwhelming them with hugs, and dressing in red (my favorite color.) However, I do recognize that it is entirely unnecessary. We dedicate 1 day, 24 hours, 1440 minutes, of a whole year, to do things that could and should be done regularly. If you want to buy your friend their favorite chocolate because they are having a bad day, do it. If you want to buy your girlfriend flowers on a random Tuesday because she deserves it, do it. It does not need to be the 14th of February for you to buy your boyfriend a sweatshirt just because you know he will love it. This holiday is merely an excuse for us to waste money, time, and effort on something we should be doing for the people we love anyway. 
It is also a big invitation for peer pressure to enter relationships for the sake of having a Valentine, someone whom to gift on a special occasion. Children in the 6th grade, or even 10th graders, should not be desperately seeking somebody to "love" just because they feel the need to on this holiday. We should not be pressured into dedicating Bruno Mars's love songs to someone or buying a rose and song gram from the Senior class just because someone we know does. The diaper-wearing, bow-and-arrow-carrying baby does not strike everyone at once, and that is okay. The best Valentines to have are your best friends, anyway. There is no shyness, much more comfort, and much less pressure. 
We have to face it. February 14 is not a special day. If you are single on Valentine's Day, it is no different from any of the other days of the year when you are single. The better of us know that this day is just like the rest, and being taken for it does not make you the best.
Image Citation
Maya. (2023, January 27). Pin by vitória on r@ndom: Angel aesthetic, Aesthetic, Cupid. Pinterest. Retrieved February 2, 2023, from https://www.pinterest.com/pin/288160076150449786/
Leave a Comment
Donate to Baldwin Bullseye
Your donation will support the student journalists of The Baldwin School of Puerto Rico. Your contribution will allow us to purchase equipment and cover our annual website hosting costs.
About the Contributor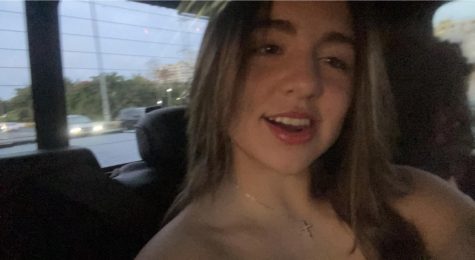 Helena Vélez, Writer
Hey, I'm Helena! I'm a 10th grader at BWN. I am in the Journalism club, as well as the MUS Art club. I love anything artistic (art, literature, fashion,...