Babylon: Beauty and Damnation a Golden Age of Hollywood
Damien Chazelle's Babylon is the Academy Award-winning director's latest venture, and with a 78 million dollar budget, it serves as no surprise that it is his most ambitious work thus far. Babylon is Chazelle's second picture about Hollywood, however, it is very different to its predecessor, La La Land. While both films simultaneously romanticize and critique the Hollywood industry, Babylon criticizes much more harshly than La La Land. The film is a study of four characters inspired by prolific figures who shaped the early days of the film industry. These characters are Nellie La Roy (inspired by Clara Bow), Jack Conrad (inspired by John Gilbert), Manny Torres (inspired by Rene Cardona), and Sidney Palmer (inspired by Louis Armstrong & Duke Ellington). The film explores these characters as they navigate through the utter debauchery of Los Angeles, and the price one has to pay for fame and fortune.
Nellie, like her character inspiration Clara Bow, deemed the first ever "it-girl," came from a lower class upbringing, and emigrated to Los Angeles in search of fame and notoriety. Nellie is highly talented, however, she does not fit in with the high class, and that made her stardom much more challenging to obtain. Jack Conrad is the typical Hollywood frontman, charming and attractive; however, his stardom is fading. Manny is a young, ambitious Mexican immigrant who dreams of working on a movie set someday. Sidney is a talented trumpet player who works his way up to appearing in motion pictures, however, though he encounters success, as a black man in the industry, there were barriers and prejudices to face.
The film paints a glorious portrait of what Hollywood once was, back when Los Angeles was just open-road and promise. Cinematographer Linus Sandgren describes Babylon's world as an "expressive impressionistic view of the world". However, Hollywood's "wild West days" were anything but; movie studios were outdoors in empty fields and sets were built anywhere and everywhere. Babylon captures the wild and chaotic nature of the films of the time, and the craziness behind the birth of even the most simple of motion pictures.
The film's most interesting character lies in Margot Robbie's Nellie LaRoy, her portrayal of the typical starlet of the Silent Era, fearless and wild. This era's films reflected the excessive culture of the times, and Nellie La Roy fit right into the "Wild West Days of Hollywood", carrying herself with the Avant Garde spirit that defined the early 1920s. However, as Hollywood becomes more and more commercialized, Nellie falls out of favor with producers and audiences, who see her as unrefined and wild, which was once what made her so alluring to them. Nellie's downfall is inevitable, and while she tries to adapt to what is expected of her, she fails to captivate audiences like she once did, and falls into obscurity. In addition, La Roy's most interesting story line is definitely her relationship with Lady Fay Zhu, inspired by Anna Fay Wong, considered the first Chinese-American movie star. La Roy and Fay Zhu were lovers, much to gossip columns and Hollywood executives' dismay. La Roy, however, makes the choice to leave Fay Zhu in order to save her doomed career (as homosexuality was illegal at the time). At the end of her life, La Roy chooses to marry Manny, and while as the two leads of the film their pairing makes perfect sense, audiences can't help but miss Lady Fay Zhu, and I can't help but grimace at the reduction of their relationship to being a mere fling of La Roy's.
Los Angeles is a biblical city, and carries a biblical theme in itself, with the city's very name translating to "The Angels". The Hollywood industry almost feels like a Biblical fable, using people as disposable profit creators, luring them in with promises of grandeur. Babylon's characters all experience the Hollywood dream's glory, however not without a price to be paid. As the film progresses, the locations change all the way from extravagant hedonistic parties to almost hellish dungeons and violent shootouts. The characters all tasted the forbidden fruit, however their glory faded just as quick as it arrived. The film's most prevalent metaphor is Nellie's snake fight. While some critics of the film disregarded the scene to be merely a juvenile attempt at outrageous comedy, it represents one of the most famous Biblical tales: Eve and the forbidden fruit. Nellie is a wild child, cruising through life and getting into trouble along the way. However, her moment with the snake was pivotal in defining the rest of her short-lived career. The snake biting her is a nod towards her sins and excess catching up to her. Once the snake bites Nellie, the tone of the film shifts, and darker and grimier events ensue. The dungeon that Manny goes down (accompanied by James McKay (Tobey Maguire)), is as close to hell as some will ever see. As Manny descends lower and lower, his surroundings turn more and more decrepit, the room growing visibly darker, the only light source coming from the red flames of fire torches. In the lowest level of the dungeon, Manny witnesses a horrifying sight: a man surrounded by a large cheering crowd, about to eat a rat. McKay proceeds to say that the man will do anything for cash, which is a clear nod towards the characters of the film, who, desperate for fame, do dark and twisted things, all for the viewing pleasure of moviegoers worldwide.
One of the film's most desperate moments comes from an interaction between Sidney and Manny when both were at the height of their success, working on a set together. Manny asks Sidney to put burnt cork on his face, much to his dismay. This was in order for Sidney's skin tone to match with the other, more dark-skinned performers. Sidney was clearly uncomfortable with this, and Manny showed hesitation in asking Sidney as well; however, both did it regardless. Manny didn't lose much from the action, apart from feeling perhaps ashamed, but Sidney ridiculed himself and went along with the reduction and neglect of black performers, all to maintain his success.
Damien Chazelle's view on Hollywood, at least as seen in his films, is very contrasting. His other Hollywood centering film, La La Land, ends on a career high note for the principal characters, and Babylon is different in the sense that its titular characters' "success" is made outside the industry (at least for the ones that made it out). Some consider this to be confusing, as the question that arises for most is which Hollywood does Chazelle see as true. However, one must remember two things: Chazelle is quite literally the most famous director of his generation, and Babylon is a period piece. The death of silents and those who became famous thanks to them was necessary to create the Hollywood that Mia from La La Land succeeds within. Therefore, Babylon shouldn't be taken as a current social critique, but for what it truly is: the tale of the rebirth of a dying industry and those forgotten along the way.
Although a spectacle of modern cinema that contains a star-studded cast, Babylon bombed at the box office, only receiving a single Oscar nomination. It has been a hit or miss year for original cinema, as audiences are not engaging with films containing original stories as much as they do with comic book adaptations and streaming services' original series. It is essential that Arthouse and Original cinema stay alive. As media becomes more accessible to make, it should only urge filmmakers to bring their narratives to life. However, with Babylon bombing at the box office, it is unclear if major movie studios would find it wise to invest in further passion projects, such as Babylon was to Damien Chazelle. One can only hope that audiences become drawn to original narratives and pay more visits to their local cinema in an era where media is so accessible and widespread.
Sources:
Chazelle, D. (Director). (2022). Babylon [Motion picture]. United States: Paramount Pictures.
Khoury, R. (2022, February 1). 'Babylon' review: Damien Chazelle's love letter to Old Hollywood misses the mark. New York Post. https://nypost.com/2022/02/01/babylon-review-damien-chazelles-love-letter-to-old-hollywood-misses-the-mark/
Sharf, Z. (2022, January 29). 'Babylon' cinematographer Linus Sandgren on Capturing Damien Chazelle's Gritty Epic. IndieWire. https://www.indiewire.com/2022/01/babylon-cinematographer-linus-sandgren-interview-1234694979/
Leave a Comment
Donate to Baldwin Bullseye
Your donation will support the student journalists of The Baldwin School of Puerto Rico. Your contribution will allow us to purchase equipment and cover our annual website hosting costs.
About the Contributor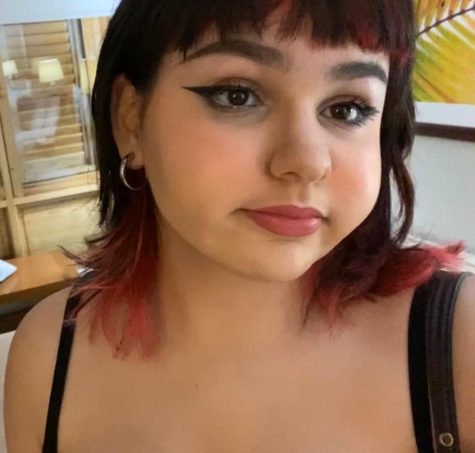 Lexi (Alexandra) Garcia, Writer
Hey, I'm Lexi! I'm Puerto Rican and Cuban (born here in PR), and I enjoy appreciating all things artistic, whether that be films, music, photography,...