The National Honor Society and National Junior Honor Society Induction
The 2019 NHS and NJHS Induction Ceremony
This year, the NHS and NJHS welcomed the new members and officials in an exceptional ceremony, welcoming Miguelo Oliveras as the guest speaker, whose kind words touched each and everyone's heart. This year, the ceremony took a more dynamic turn, eliminating the yearly signing by the new members of the book (which has the signature of all NHS and NJHS members throughout the year) and adding a guest speaker and a video presentation featuring past NHS presidents, who wish the inductees the best of luck during their journey in the society. This induction ceremony was a complete success; it was an event that was not only the NHS and NJHS inductees would enjoy but also the whole student body and Baldwin faculty!
The ceremony began with the presentation of NHS and NJHS officers. The newly inducted officers for the National Honor Society are:
President: Alexxa Aponte

Vice President: Ana Soto

Secretary: Patricia Rodriguez

Treasurer: Diego Pou

Historian: Sofía Melendez
Parliamentarian: Nicole Uribe 
The new officers for the National Junior Honor Society are:
President: Caridad Álvarez

Vice President: Alanna Ríos

Secretary: Natalia Uribe

Treasurer: Lía Bermúdez

Historian: Chloe Goldberg

Parliamentarian: Karina Acevedo
Afterward, the returning members were presented. The returning members of the National Honor Society are:
Alana Badillo

Alejandra Lozada

Alexandra Pérez

Alexandro Kontokalos

Andrés Fierres

Ángela Pérez 

Daniela Cruz

Diego Ramos

Gonzalo Comas

Hailey Goldberg

 Jelle Kooij

Jessica Stolz

Mario Mancera

Natalia Fontana

Nathalie Díaz

Rani Patel

Ricardo Kury

Sofía Bermúdez

Sofía Cañuelas

Stephanie James

Yael Berezdivin
The NJHS returning members are:
Andrea Pérez

Bárbara Ruiz

Camelia Elías

Diana Pujals

Isabel Vázquez

Kevin Riordan

Mía Allio

Natalia Amaro

Nayma Carballo

Pilar Colón

Stella Benítez
Right after the presentation of the new officers and returning members, the inductees walked onto the stage. The NHS inductees are:
Daria Figlus

Charlotte Olmedo

Carlos de Ontañón

Ariana Sabnani

Amanda Delgado

Alexandra Puig

Ignacio Sadurni

Ignacio Pérez

Gabriel Comas

Evelyne Williams

Emilio Legrand

Diego Jurado

Raj Patel

Natalia Fierres

Natalia Díaz

Maruquel Tampe

Laura Rodriguez

Jennifer Badillo

Victoria Villoldo

Stella Puopulo

Sophie Termaat

Sebastián Vélez
The students who were inducted into the National Junior Honor Society are:
Estefanía Puig

David Soto

Caio Miyake

Brianna Quintana

Arianne Brechot

Adriana Muñíz

Isabel Rodriguez

Irene Lockwood

Inaya Rivera

Gloria Mancera

Gabriel Valenzuela

Gabriel Bonilla

Lucia Kitsos

Lucy Puopulo

Lucas Torres

Leila Oller

Jamie Duerig

Isabella Febbo Whitney

Paris Jackson

Paola Soler

Montserrat Betancourt

Mariana Robles

Mariana Algaze

Madeleine Jane McKnight

Yulianna Morales

William Forester

Victoria Spikes

Shennen Torres

Sérgio Lugo

Reyna Torrado
The national anthems were sung beautifully by Diego Ramos, a National Honor Society member and by Victoria Spikes, an NJHS inductee. Diego sang the Puerto Rican anthem while Victoria sang the American one.
Our new principal, Ms.Victoria Banks, gave us all a warm welcome with a beautiful speech, which was followed by the annual pillar candle lighting performed by the NHS and NJHS Vice-Presidents, Ana Soto and Alanna Rios.
In this candle lighting, Soto described the four pillars of the society as Rios lit the candles that represented them. These pillars are scholarship, service, leadership, and character. NHS and NJHS members aren't only made up of their grade point average but are also defined by these four characteristics we all should possess.
Something never seen before in an NHS/NJHS induction ceremony is the video presentation featuring the NHS presidents from the classes of 2017, 2018, and 2019. The presidents in the film were Andrea Badillo from the class of '17, Nara Finklestein from the class of '18, and Nicole Polish from the class of '19. In the video, the three girls wished all inductees good luck in their journey and explained how being NHS presidents changed their lives.
Ms. Victoria Banks installed the new officers of NHS and NJHS before Alexxa Aponte spoke about Students Offering Solutions (or S.O.S. for short), a student lead organization created by NHS presidents in different schools to promote student-lead initiatives. The first big project was made to help the Bahamas after Hurricane Dorian passed through. S.O.S. raised about $6,619 for the Dorian relief. 
Afterward, the NJHS and NHS inductees were installed; each one was given a certificate by the newly-inducted presidents. Once all certificates were Alexxa Aponte read a pledge for all members to live by. Alexxa along with Caridad gave thought-provoking messages for the new members to keep in mind in their journey through NHS and NJHS.
Lastly, Mr. Miguelo Oliveras, our guest speaker, gave us all a heartfelt speech, where he outlined six qualities we should all have in order to be a scholar, develop character, provide, leadership, and excel in service. These qualities are to be alert, loving, decisive, a winner, influential, and northbound, which spell out Baldwin! The 2019 NHS/NJHS induction ceremony is one to be remembered.
About the Writer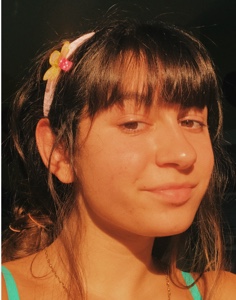 Caridad Alvarez, Writer
Hey, I'm Cari! I'm fifteen years old, and I'm currently a sophomore. My favorite movies include everything by Tarantino and any 80s coming-of-age...