Beware: No More Chicken Tenders on the Menu
Kid favorite and all around famous classic, chicken tenders have been in everyone's life at least once since their creation in 1917. The timeless essential has made its way into fast-food restaurants and has been a hit since then. Unfortunately, in the past few months, the US has seen increased chicken tender prices as a result of a developing national shortage. Many individuals around the country have spoken on the topic and what is to come if the situation is not handled appropriately. If not solved quickly, this ongoing shortage will have devastating impacts on our communities affecting local and national restaurants, fast food chains, grocery stores, and families. 
General prices increase when the supply does not meet the demand. When prices rise, not only does that mean supply is low, but purchasing power declines as well. This is where we find ourselves in the chicken tender kingdom. The price of a value pack of chicken tenders has gone up nearly a dollar per pound since December 2020, from $3.02 to $3.99 on average, according to the U.S. Department of Agriculture. Major chains like Kentucky Fried Chicken and A&W have changed their marketing strategies to omit tenders from promotions as an attempt to avoid selling out of them. But why are we selling out of the most popular food option in the first place? 
In order to understand the reasoning behind the lack of chicken fingers, we must dive deep into the source: production. It requires a lot more processing to package and sell chicken tenders than it does for regular chicken. The meat industry as a whole has seen prices rising throughout the pandemic, but chicken fingers are one of the products that have been affected the most. Meat manufacturers have reported weather issues and high demand as the reasons for the rising prices, and as a result, the Biden administration announced that the Department of Agriculture is "conducting an ongoing joint investigation with the Department of Justice into price-fixing in the chicken-processing industry" (McDonald). However, manufacturing issues are not the only reason why we are currently facing this shortage. "Labor shortages are also affecting the nation's pork and poultry supply," said Tyson Foods in a news release in September" (Scagell). The lack of labor caused by the pandemic is another factor contributing to the shortage, since without workers, there is no one to produce, ship out, or sell the tenders. There are also rising problems with the supply chain, which can limit the amount of chicken delivered to the manufacturers, hence decreasing the amount of tenders delivered to fast-food restaurants and grocery stores. 
This problem may seem silly at first, but if not solved soon, it could have a ripple effect impacting hundreds of families all over the country. Chicken tenders are obviously a popular food item for kids in the US and the world in general. For parents like Molly Edmunds of Scottsdale, Arizona, removing chicken tenders from the family menu could mean a lot of frowning faces at the dinner table. "My kids eat hamburgers, french fries — I have to wrestle them to eat vegetables," Edmunds told NBC News. "When I come home from the store and I don't have any chicken tenders, my kids are not happy." In fact, according to Kerry Sanders, a popular journalist, Americans are expected to eat 100 pounds of chicken per person this year. If restaurants and grocery stores are not able to meet that demand, all types of problems regarding diets and even food culture could begin to bombard us and the way we feed our families. 
The problem we have at hand is not one that we are unfamiliar with, having in mind our restaurants' abilities to constantly adapt to current occurrences. In order to surmount this obstacle, many chain diners and fast food restaurants are turning to plant-based alternatives, which have boomed during the Coronavirus pandemic as the prices of meat have gone up. Plant-based meat company Beyond Meat launched Beyond Chicken Tenders in July to hundreds of restaurants nationwide. Companies with plant-based meats cut prices to be more competitive with meat prices, and Beyond Meat sales' skyrocketed during the pandemic, The New York Times reports. In fact, general plant-based meat interest experienced a 1,320% increase in U.S. menu mentions even before the pandemic, and is currently rising (Tastewise). 
Perhaps it's time to change our eating habits and attempt to reduce our chicken intake. Would you? Personally, I believe that is a very hard thing to accomplish, but it does not mean that I will not try. Some ways to reduce your chicken intake include having meatless days at least twice a week, investing in beans and high protein non-meat foods, eating more vegetables, and ensuring your diet is as varied as can be. Hopefully, the production industry can keep up with our chicken tender demand, but just in case, I recommend everyone start altering their diets. Keep in mind that the day where there are no more chicken tenders is, in fact, not centuries away.
Bibliography
"Download Market Report: Alternative Proteins Report << Tastewise." Tastewise,                                                                                                                                                                                  https://www.tastewise.io/download-report/alternative-proteins-21.
Harper, Blake. "Red Alert for Parents: The U.S. Could Face a Chicken Tender Shortage." Fatherly, 7 Dec. 2021, www.fatherly.com/news/united-states-chicken-tender-shortage.
McDonald, Amanda. "A Chicken Tender Shortage May Soon Hit Grocers and Fast-Food Chains, Reports Say." Eat This Not That, 2 Dec. 2021, www.eatthis.com/news-chicken-tender-shortage-december-2021.
Russo, Anthony. "Fears of Chicken Tender Shortage as Supply Chain Issues Increase Prices…" The US Sun, 6 Dec. 2021, www.the-sun.com/money/4216535/chicken-tenders-shortage-price-increase.
Shen, Michelle Usa Today. "Finger Lickin' Gone: Is a Chicken Tender Shortage Underway?" USA TODAY, 7 Dec. 2021, eu.usatoday.com/story/money/food/2021/12/05/chicken-tender-shortage-why-its-happening-and-what-else-you-can-eat/8879604002.
Scagell, Julie. "Supply Chain Threatens Chicken Tenders And Parents Everywhere Sob." Scary Mommy, 6 Dec. 2021, www.scarymommy.com/chicken-tender-shortage.
Stump, Scott. "Supply Chain Crisis Now Impacting Chicken Tenders." TODAY.Com, 2 Dec. 2021, www.today.com/food/supply-chain-crisis-now-impacting-chicken-tenders-rcna7371.
—. "Supply Chain Crisis Now Impacting Chicken Tenders." TODAY.Com, 2 Dec. 2021, www.today.com/food/supply-chain-crisis-now-impacting-chicken-tenders-rcna7371.
View Comments (1)
About the Writer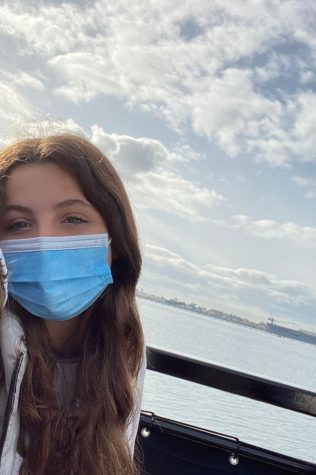 Micaela Serber, Writer
Hey! I'm Mica, a 9th grader at BWN, and I love expressing my thoughts through writing.